Card Stock. Envelopes. Creativity. Crafting. Faith. Customer Service.
A Family Tradition
Years ago, at a dining room table, a stay-at-home mother of 3 used her imagination to start a business cutting card stock. With tons of prayer, that business grew. Customers truly felt appreciated and shared their experiences. The business grew from the dining room table, to the basement, to a back garage, to now...
... a 5,500 square foot warehouse with 12 employees.
This is the story of CutCardStock.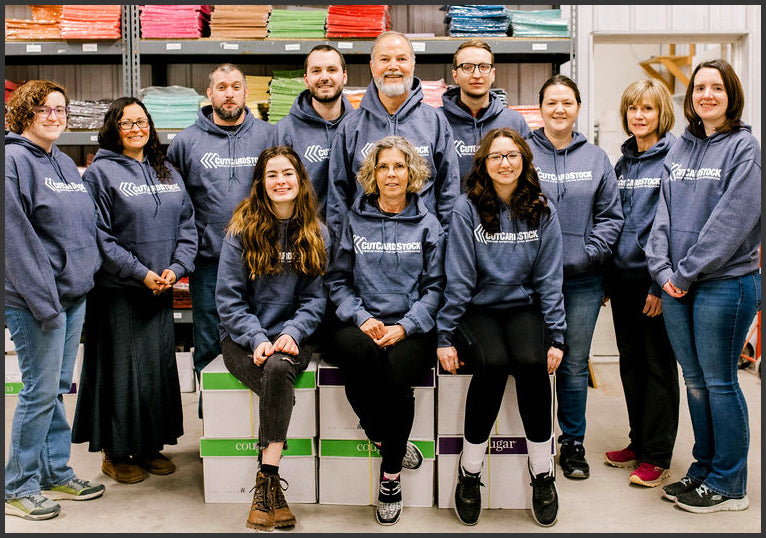 CutCardStock Services & Company
The following videos explain a bit more about who we are, the growth of our company, and shows the care and meticulous attention to detail that goes into every single order we prepare for our loyal customers.
This is who we are.
The CutCardStock Story so Far...
Our Paper Cutting Process
Quick Links to Popular Services
Second-Generation

Ownership

" I watched my Mom & Dad start this company, and grew up as CutCardStock's first unofficial employee. As a kid, I was less than thrilled to be working for my parents in the house, and never planned on working at CutCardstock later on. It was not until I was a young adult that I realized the massive leap of faith it took for my parents to start CutCardStock. My respect for how CutCardStock was started, and how it continued to grow inspired me to want to carry on the family business. In December of 2021 my wife and I became official owners of CutCardStock. My parents continue stay on in advisory roles and help with some of the weekly operations. CutCardStock has blessed my upbringing and I am honored to carry on the family business into the second generation. "

Jay Crots
Son & Current Owner @ CutCardStock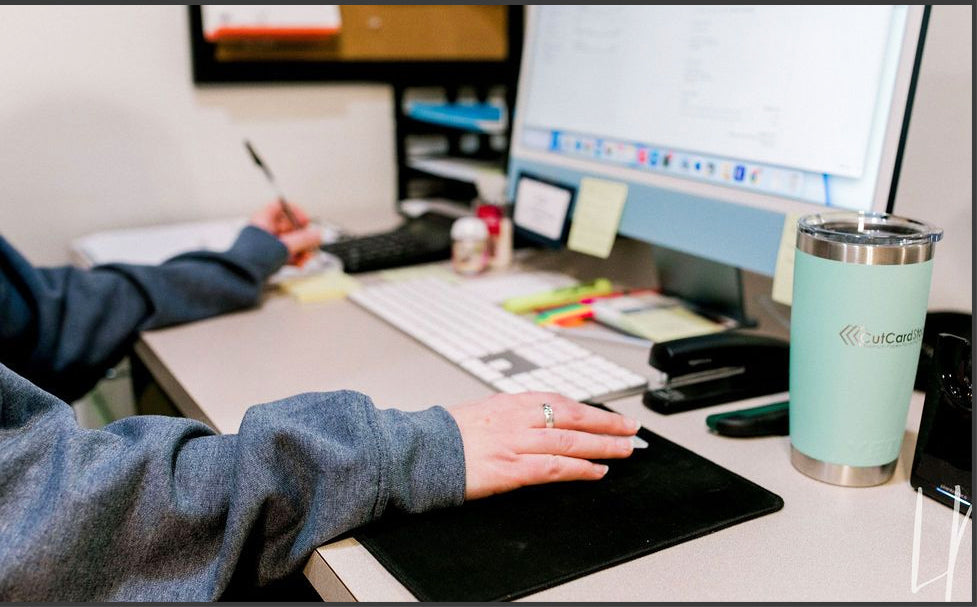 Outstanding
Customer Service
" We will be forever grateful for our customers, from the first packages prepared on our dining room table to the tens of thousands of customers over the years. It's been our pleasure trying to accommodate your wishes and to fulfill your orders in a timely and excellent manner. The smiley faces and thank you notes in your orders come from grateful. Over the years our prayer has been "God, if we've treated our customers in a way that pleases You, would you please touch their hearts so that they would tell their friends about us". God has consistently been our best salesman and provider for all these years. We thank you for your faithfulness and may you continue to offer Jay (our son) and his staff the opportunity to serve you. "
Darrell & Cindy Crots
Founders @ CutCardStock
The Full History of CutCardStock
Grab a cup of coffee and read a little more about the roots of CutCardStock...
Cutcardstock began at our dining room table with a small rotary cutter, a dream and a hope that God would help us develop this into a real company. Today there are 12 of us on the CutCardStock team.
The idea of CutCardStock sprouted while my wife Cindy was a stay at home mom back in 2006. While enjoying the benefits of being a staying at home, she used her imagination to create extra spending money. A small local company asked her if she would cut paper to special sizes for their customers. She agreed and placed a small rotary paper cutter on our dining room table and began cutting very small stacks of cardstock for customers orders. Providentially, the stress on her wrist and the stress of my job caused us to re-think our future. We began to dream of turning this part-time opportunity into a real company of our own. It has been quite an Adventure for two people with no IT or Website design training to start and run an on-line company. During these years we've experienced God's help and provision for our family. Our first cutting room began upstairs in our home in a 8 x 9 spare room and today we currently rent 5,500 square feet of warehouse space. Today we are continuing to help others make lasting impressions with our blank invitations, folded cards, discount card stock, envelopes and quality cutting and printing.
As we have grown over the years, we have counted it a privilege to use some of our profits to reach out and help others. We have been fortunate to help in our community by giving through our local church, overseas missions, and some local nonprofit groups in our community. Our newest giving opportunity has been to have periodic events in which we give away card stock, envelopes and paper to our local school teachers. We believe that when God blesses us, we are called to bless others.
Our family would like to thank each of you for giving us a chance to be your Discount Card Stock company!
Our Team & Facility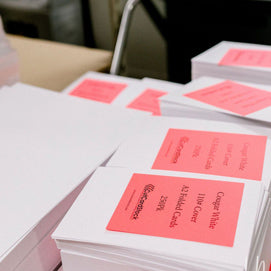 Thank you for stopping by and reading our story.
We hope to be your Discount Card Stock and Envelope source for years to come.
Sincerely,
The CutCardStock team